Helping Moms (& More) Get Organized for 18 Years!
We designed momAgenda planners to help you manage multiple schedules and projects in one unique weekly layout. This planner is the ultimate solution for overwhelm and stress! Our planners help you keep track of all the pieces of your life (kids, exercise, work, food, & more) in one place.
Here's How it Works: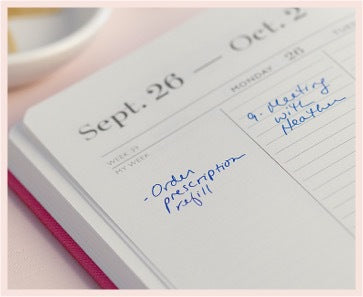 1. Organize Your Day First
Your schedule and your needs come first. The top section is for you to plan your schedule, jot down notes, and write your to-do list(s).
2. Organize Your Kids, Partner, Pets, and/or Actitivities
Use the four boxes in the lower section for kids, pets, projects, you name it, to keep those activities separate from day to day. Use it your way!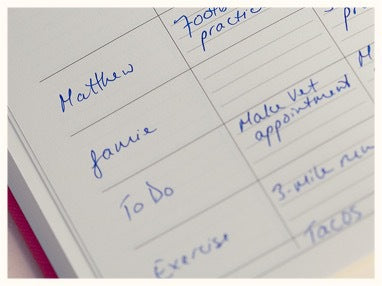 What Everyone is Saying
As we navigate this New Normal with Covid I need My Mom Agenda more than ever! For keeping track of my own teaching schedule & that of our 3 grammar school children Classroom & Zoom Sessions! So Grateful for the increased family time -walks & Bike rides, Game nights, and more outdoor playtime ! Ordered my calendar early this year — cannot be without it!

Sandra
The only problem with the MomAgenda Planners is trying to choose which one I like best. I have used the momAgenda Desktop, momAgenda Spiral Desktop, the Folio Cover which I had in pink for YEARS. I also use the Weekly and Menu Planning Sheets. I have been a customer for about 14 years. I am all for technology but there is something creatively that takes place when we sit and write our plans. Thank you momAgenda for helping me be a good Mom.

Leslie
After many, many years of looking for planner nirvana, and using MomAgenda in various forms, leaving, and coming back, I realize now that MomAgenda is THE best layout for anyone, Mom or otherwise!

Elyssa